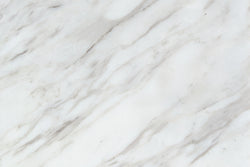 Volakas
Volakas is a town located in the Drama region of Northern Greece. The area is often referred to as the "Carrara of Greece", because of the stunning white marble extracted from its Falakron mountains. The unique yet timeless and elegant look of this Greek stone has made it one of the more sought after white marbles in the world.
Greek Volakas marble has a beautiful white background with distinctive thick veins flowing diagonally in subtle light gray and beige color tones. Its peaceful appearance will make a fireplace mantel carved from this extraordinary marble turn any room into a haven of tranquility.
Volakas is available on all our mantels in the Classics and Modern collections, and on any custom mantel.